Some people know that I am a semi-fanatic recycler. Pat and I both make an effort to live green. Heck, we have huge solar panels that help supply the electricity to our house. So, what do you do when the lovely satin coat hangers you have had for ages start to fall apart?
Well, I recovered them. I have had one or two hangers taking up space on my cutting table for too long. Earlier this week I decided it made sense to actually recover one, especially since I had a new knit cover ready. I used leftover yarn and cast on 25 stitches. I did the stocking knit stitch (pearl a row, knit a row) until it looked like it would cover the coat hanger. But wait, these had been nicely padded coat hangers. Yep, I could recycle some left over batting to make this a padded coat hanger.
First I wound 2 1/2" strips around the wooden part. I put an extra piece to cover each end. I did that twice, I had a pretty big knit cover to get on it. Next, I put a big piece of batting over it all to control the strips. See that hole in the batting below? I actually got a whole punch out and made that. I think I'd just cut a slit next time.
Next, I whip stitched the batting down making a smoothly covered coat hanger. My, doesn't that look nice?
Finally, I put the cover on. I just folded it in half length-wise and width-wise to figure out where to put the hook part through. Again, I whip stitched the knit cover which will keep it on the coat hanger. Darn, I should have thought about the fact that this particular coat hanger has the hook covered with pink plastic.
So, I should have left the second wrapping of strips off. This coat hanger looks like its been taking steroids for too long. I have quite a few wonderful coat hangers my grandmother made which I patterned this one on. Many are falling apart so I will be knitting new covers for them. Wait until you see the next one. Grandma used some type of foam to cover the hanger and it is still in really good shape despite the knit cover falling apart. The great thing about these covers is they aren't slippery. It you have a garment made of a slippery fabric it won't fall off the sides. I can remember looking in my grandma's closets and all of her dresses were hung on these. This is a great way to use up bits of left over yarn, batting and get some nice padded hangers.
We had a bit of snow overnight. The birds weren't really happy about it as I think it froze this feeder so they couldn't get to the seed. It's pretty much all melted off now. And the birds keep swooping in.
I'm trying a new linky party today. Click here to go to Needle and Thread Thursday. Or the link below to find out more about it.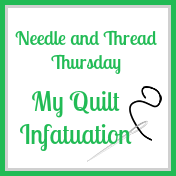 I'm planning on working on a UFO today. I hope to get the top completely sewn together. Of course, I also need to clean off the cutting table -- it's a mess! I'll need to stay focused on this!
Happy Quilting All!